Presentation of Pr Solovic at the 4th World Bronchiectasis Conference
The work from Pr Solovic and his team "Feasibility and benefits of an innovative airway clearance device in COPD patients hospitalized for acute exacerbation" will be presented at the 4th World Bronchiectasis Conference next week.
32 patients with AECOPD and symptoms of excessive mucus congestion, were treated during 6 days with medical treatment, pulmonary rehabilitation and airway clearance with either manual CPT or Simeox. No adverse event nor pain was reported. In very severe COPD, improvement of FEV1 and CAT score was significantly higher with device therapy than with CPT. COPD with bronchiectasis seemed to benefit the most from device therapy.
Results confirmed the feasibility of Simeox to manage mucus problems in COPD and suggested that it may contribute to improving respiratory symptoms and quality of life in the most severe patients.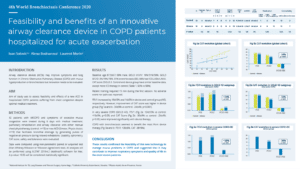 #bronchiectasis #simeox #airwayclearance